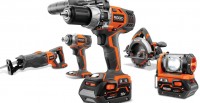 After the latest progress report on the Foreclosure Project, several people were inspired and wrote to me with this question:
I've always wanted to be able to do more of my own projects around the house, but I don't even know what tools I would need to get started. Where can I get this information?
There are probably many great books in the library about this, and other websites as well. But since I had to go through that exact same learning process myself over the years, I thought I'd share my own thoughts on it and perhaps help some people avoid repeating my mistakes. Sometimes, you just want someone to tell you exactly how to get started, as I tried to do in the Pex Plumbing Article.
The Secret Simplicity of Carpentry:
To an outsider, carpenters are sometimes looked upon as magicians. But when it boils down to it, the craft consists of repeating only these four steps: Design, Measure, Cut, and Attach.
You design with your imagination, possibly augmented with graph paper or Google Sketchup. You measure with a tape measure, ruler, various levels and squares, and occasionally angle meters. You cut with an assortment of power saws which grows as you advance (I'm up to about eleven types so far), plus drills and other rotary tools. And you attach with nails (usually from a nailgun), screws, glue, and other types of adhesives.
Design, measure, cut, and attach, that's it. Everything else is just fancy variations on those basic activities. The better you get at those activities, the better your work becomes.
A Philosophy of Tools: Quality vs. Price
A person who is "cheap" will focus only on price when making purchases, including tools . I've never been cheap (believe it or not), so I try to buy tools that give me a maximum level of usefulness (work quality and speed) and longevity, while still weighing these factors against the cost.
This equation also needs to take into account the frequency and value of the work you'll be doing with the tools. I'm a casual professional, so my tools need to help me produce somewhere between $5k and $100k of value per year depending on what projects are going on. Even at the lower end of that range, dropping from a $100 saw down to a $50 one that is noticeably crappier is a bad idea, because every cut I make will be less straight, and I'll waste time trying to make up for the bad cuts with other adjustments.  More importantly, my quality will go down, and a lot of the fun in carpentry for me comes from producing the best quality stuff I can possibly make in a given amount of time.
But it is also possible to go overboard in this department. Boutique toolmakers exist in every category, daring you to upgrade from the $500 table saw that I use, to the $3,600 one. What I've found from using both types of equipment is that the returns at the higher end are rapidly diminishing, at my level of work anyway. My guideline for quality is thus simply "top-of-the-line of what regular stores like Home Depot or Lowe's carries".
In other words, my tools are a mixture of Dewalt, Ridgid, Hilti, Milwaukee, Makita, but not too much Black and Decker or Ryobi these days. However, thanks to the crazy productivity of Chinese manufacturing, even those cheaper brands have advanced sufficiently that they are plenty good for weekend hobby use, and you should not feel like you're cheating yourself by starting with them.
The Secret Place to get Cheap Low-Tech Tools:
The philosophy above applies to power tools like drills, saws,  and other complicated instruments. But you also need plenty of basic chunks of metal like hammers, wrenches, and screwdrivers. Home Depot makes a good slice of its profit by selling these at much higher profit margins than it sells the power tools, because it's easier to mark a $3 (wholesale) hammer up to $20 without raising eyebrows, than it is to mark a $300 table saw up to $2100. But a few years ago, I discovered a place that sells reasonably good quality tools of this type at much lower prices – Harbor Freight Tools. Here's a link to that store. (It's a sponsored link, so I'll indirectly get a buck or two if you buy something there after clicking the link, but it doesn't affect the price you pay, of course):
Harbor Freight Tools WINTER SALE Expires: 1-31-12
The thing to note about Harbor Freight is that while their hammers and wrenches and even air tools and welders are great, the cordless power tools and more advanced things like table saws are often rubbish. So you'd be be better off picking those up at one of the standard retailers. If you're unsure about a certain model of big-brand power tool, just type its name in to a search engine and "review" to see what others have said about it.
Also competing with both Lowe's/Depot and Harbor Freight, is of course Craigslist. Just watch the price and age of the tools, since many of the sellers are contractors. Some of my brethren in the trade aren't the most craigslist-savvy people, so they often ask too much, or don't document the tool properly with pictures, don't respond well to emails, etc. The best deals I have found on Craigslist are on big old tools (lathes, bandsaws, etc), or big package deals ("contractor going out of business, here's my whole set of tools including an enclosed trailer for $4000").
With all that out of the way, here's my introductory tools list for various levels of aspiring carpenters and handypeople:
Level 1: stuff everyone needs:
Simple hand tools like screwdrivers, pliers, utility knife, wrenches, etc. These are usually most affordable when purchased in bulk, such as this kit at harbor freight, or similar ones at Costco. Throw in a tape measure, level, hammer, and studfinder, and you are already ahead of most of the home-owning public. With these, you can hang pictures, change your car battery, install a new dishwasher, change light and plumbing fixtures and door handles, and things of that nature.
Level 2:
Add a cordless drill (essential for driving longer screws and drilling holes). 18 Volt models are good, I like the Ryobi lithium battery drills as a model that can go from beginner to your first full house renovation.
Level 3:
Time to start cutting some wood. A good way to have basic cutting capability along with compact size and easy operation is to get a fully cordless system, right off the bat. In my opinion, the best cordless tool value on the market right now is the Ryobi Combo kit at Home Depot – the combo kits are a good deal, then you can add extra tools (there are many) as you need them.  A cordless jigsaw is a particularly useful one. You may also want to add an orbital sander and possibly a belt sander at this point. Now you're ready to make desks for your kids, and shelves and simple backyard furniture for your house.
Level 4:
At this level, you will start wanting perfectly straight cuts in long pieces of wood, and perfectly square cuts across them. For these tasks, you need a table saw (the one I like by Ridgid is linked earlier) and a Miter saw. I use an almost identical earlier model of the Dewalt DW718 that I bought in 2000 and is still working perfectly to this day. If I was buying one today, I would probably choose the Ridgid 1290. In general, I've learned that Dewalt and Ridgid run neck-and-neck for high durability and quality, but Dewalt often has stupid design flaws like switches and power cords in inconvenient places, while Ridgid tools are more well thought out. Since I need to move around a lot, I have my miter saw mounted to this Ridgid rolling stand, which I have fallen deeply in love with after using an awful non-rolling stand for the ten prior years.
Level 5: You're ready for fancy and fast attachment of those nicely cut pieces of wood. You can add a small air compressor and 18 gauge and 16 gauge nailguns. When you nail with a nailgun, the connection happens instantly with no wiggling of your wood. This lets you create furniture-grade quality, especially since the nail heads are so small they can barely be seen (and thus can easily be patched over before staining or finishing the woodwork). Nailgun and compressor kits are the way to go here, since you can get the complete system for $250 or so (or less at HFT). As an added bonus, the compressor will also come in handy for pumping up car and bike tires, as well as running other air tools you can get from harbor freight such as HVLP paint sprayers, ratchet guns, air chisels for chipping away old concrete and tile, etc.
Branching Out:
To create bathrooms and kitchens, you need to install tiles – a tile cutter (wet saw) and grinder with a diamond blade are essential for these tasks. For drywall, you just need some plaster ("mud") spreading tools along with a utility knife and cordless drill. We covered plumbing earlier, and welding will get its own article someday.
Efficiency:
When I graduated from homeowner to home builder back in 2005, I got to work alongside real professional carpenters for over a year. They taught me much more about how to work efficiently than I had ever known before. Most notable were the tricks of always wearing a huge toolbelt while working (to keep youself from running around looking for things), take time at the beginning of the job to set up a work table and a good network of extension cords and lights if needed, and keep your work area clean and organized as you go along. Also do a deep brainstorming at the beginning of each project to get as many of the materials you'll need and reduce mid-day trips to the store. Always over-buy and then take advantage of today's generous return policies, rather than underbuying and wasting time returning to buy more parts. And keep a nice inventory of all the common things like various sizes of screws.

Everyone who develops carpentry skills surely evolves a set of tool preferences to go along with them. These represent only one man's love affair with the powerful little machines. But hopefully by at least introducing my own strategy, it might encourage some curious people to start exploring on their own.
Happy building!