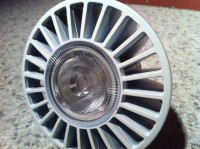 One of the easier rules of Mustachianism is that you should shoot for using about 60-75% less power than the average US household (as described in this earlier article about electricity).
By accomplishing this, you'll end up about $13,000 richer every ten years.
A big part of the savings comes from angrily smashing up any of those ridiculous incandescent light bulbs you have remaining at home, and replacing them with Compact Fluorescent bulbs (CFLs).
But although CFLs are clearly a huge win over incandescents, and they are cheap at under $1 per bulb, they still have some weaknesses:
They are not dimmable (unless you pay extra for a special type that approximates dimming)
They do not immediately reach full brightness (modern ones are usefully bright within one second, although certain in-ceiling reflector ones take several minutes to warm up).
They contain a small amount of mercury, so if you regularly smash them and snort lines of the resulting powder through your nose, you will exceed the federal recommendations for mercury intake (although they are not at all dangerous in normal use)
They provide omnidirectional light, which is great for lamps and exterior lighting, but not great for kitchens and track lighting.
The last point is most significant to lighting fanatics like myself. To get really good lighting inside a house or business, you need focused, narrow beams of light which illuminate the highlights of a room, rather than just ceiling-mounted lightbulbs randomly scattering light in every direction.  Think about the feel of an gallery, an expensive clothing store, the Whole Foods produce department, or an Apple computer store. These places use halogen track lights which provide a focused beam of bright white light. Now think about the feel of a Walmart or a Home Depot. Those ones use long fluorescent tubes or sodium lamps with no focus. It's the direct and high-contrast lighting in the nicer interiors that makes you say, "Ooh, nice".
"Ooh, nice" is an important goal, and not just for pleasing your own aesthetic senses. It translates directly into profit if you own a business with a space where customers visit, if you're a landlord hoping to increase demand for your apartments or houses, or even if you're a homeowner selling your place to move somewhere else, and want the house to sell quickly at a high price.
Check out the next few pictures to compare the effect:
So in my own house, I use Compact fluorescent bulbs whenever I can, but there are still about 20 halogen bulbs in strategic locations such as the kitchen where I like really good classy light. (I'd prefer to use halogen everywhere, but then my power bill would go through the roof).
These halogen bulbs, while better than plain old Incandescents, still burn a lot of power and generate waste heat. A typical halogen uses 50 watts of power, compared to the 13 watts of a CFL bulb.
Recently, however, a new type of light bulb has become available that offers the best of both worlds: the LED.
Five years ago, the first LED bulbs hit the stores. They promised very low power consumption, which they delivered. But this came at the price of a low light output that came out in a deeply eerie bluish color. I bought two light bulbs of this type in Costco at the time, and was immediately disappointed – they weren't nice enough to use in the kitchen or even an office. I relegated them to my upstairs staircase landing, a place we rarely hang out, and we call it "the Blue Zone".
More recently, LED bulbs have advanced to be much brighter and with a nicer light color. This is why you see them being used in the headlamps of fancy cars, and they are even creeping into the art galleries and expensive stores. The better LED bulbs also appeared on the shelves of Lowe's and Home Depot, where I started tracking them two years ago. The price of the best ones started out at a punishing $80 per bulb and has now ticked its way down to $39.99 for the big "PAR38" reflectors, and $20 for the little "GU10" track light bulbs. Looking at demonstrations of these newest bulbs, I noticed they very closely approximate the quality of halogen lights. Finally! In the near future we can all have great light quality AND low power bills, combined with bulbs that are dimmable, and last an entire generation (they have a 25 year life expectancy based on regular service).
Update: four years later, the prices have completed their amazing drop – amazing LED bulbs are now under $10 each and you can just upgrade your whole house and be done with it. For recessed lights, I highly recommend these Hyperikon bulbs at Amazon.  With that update out of the way, you may now resume reading my outdated article on the technology.
With the prices dropping so rapidly, I would normally hold out a couple more years before buying into a new technology. Although these bulbs save money compared to halogens, the annual price drop is still greater than the annual electricity savings, so it is better to keep wasting power with halogens (while continuing to use CFLs wherever possible) until the equation reverses.
But being Mr. Money Mustache, I now have the responsibility of reporting energy-saving developments to YOU. On top of that, this blog is now making a few bucks a day, enough to justify purchasing supplies for research projects like this one!
So I bought one of the big $40 PAR38 bulbs and brought it down to the MMLL for evaluation. That is of course the Money Mustache Lighting Laboratory, which is really just a desk in my basement where I set up a light fixture, a power consumption meter, and a light output meter that measures light intensity in Lux (equal to one Lumen per square meter). I took down a fleet of my existing incandescent, fluorescent and halogen lights for comparison with the new LED bulb (shown below), and here are the results.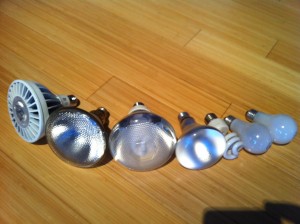 Update! After publishing this article, I mentioned it on Twitter and it was in turn quoted by a Brooklyn, New York company called LED Waves. I looked these guys up and noticed they had pretty fancy LED bulbs as well, with the added twist of being manufactured right there in Brooklyn. I suggested that they send me a couple of their highest-end bulbs for evaluation and was pleasantly surprised to see that they did. So I'm now running a pair of their "New York" Dimmable LED PAR38 bulbs as part of the MMM family's living room, and I also added their results to the table below. Here's what those beauties look like: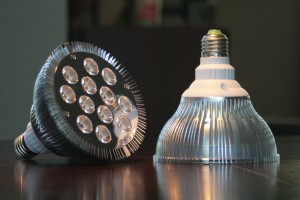 I ordered the 8 degree beam angle, which is much narrower than anything offered in the big box stores. This concentrates the light in a smaller area, which is a nice effect in my own living room, because I have high recessed fixtures in a 9-foot-high ceiling. By the time the light from regular bulbs reaches the floor, it is quite diffuse.  From these 8 degree angle bulbs, I get some nice contrasty sunshine patches on my floor, along with a still-good amount of scattered light out to the sides. You can see how that measures out in the "brightness at beam center" result below, which is over 3 times higher than other bulbs.
Power consumption was also a pleasant surprise. I measured these bulbs at only 10 watts, significantly lower than their 14 watt spec. But because of the focused beam, the usable amount of light is almost as much as the 24 watt LED bulb from EcoSmart, at least for my own purposes. The efficiency really shows up in the "lumens per watt" measurement. This bulb is almost doubling the efficiency of the other LED bulb, and of CFLs as well! The 14 watt savings works out to about 15 kWh/year ($1.50-ish) at 3 hour-per-day usage.
They also take their light quality much more seriously than other manufacturers – check out this detailed spec sheet on the New York bulb.
The only drawback? The price of the dimmable model is $99, and non-dimmable is $74. Would I pay the extra $34 for the better light quality? For the two most frequently used bulbs in my living room, I would probably say yes. For a big array lighting up my infrequently used basement rec room – no.
| Bulb Type | Rated Output (Lumens) | Efficiency (Lumens per Watt) | Peak Brightness at beam center (LUX) @ 4ft distance | Light Quality |
| --- | --- | --- | --- | --- |
| EcoSmart LED bulb (24 watt PAR38 shape for large in-ceiling recessed fixtures) ($40/bulb) | 1300 | 54 | 1820 | Sweet. Extremely bright and fairly focused beam. |
| LEDWaves New York LED Bulb | 958 | 95 | 6000 (!) | Even better than the other LED bulb - subjectively, the hue was more sun-like, but that could also just be the more focused beam. |
| Compact Fluorescent Reflector bulb (24 watts, same shape) ($10/bulb) | 1200 | 50 | 360 | Not bad, but wide beam |
| PAR38 Halogen spotlight, 50 watts ($7/bulb) | 850 | 17 | 1020 | Super Sweet. Slightly more yellow than LED bulb. Similar focus |
| Cheap 65 watt builder-grade PAR30 incandescent reflector ($1/bulb) | 580 | 8.92 | 230 | Much more yellow than halogen, wide and unfocused beam. Similar quality to CFL above, but less bright. |
| Stupid 60-watt standard incandescent bulb | 520 | 8.67 | 130 | Dim and tragic light in all directions |
| 13 watt CFL bulb | 825 | 63 | 130 | Slightly less yellow and more reddish light than standard bulb. Nicer, but still tragic compared to reflector options. |
The things to note about these results are:
Halogen lights are already almost twice as efficient as junky incandescent bulbs, even while delivering better light.
CFL and LED bulbs are about six times more efficient than the incandescent bulbs, and four times better than  halogens. (The higher-end LEDWaves bulb is even higher, in an efficiency class by itself.
The brightness at the center of the beam, which is a key measure of lighting niceness, is much higher in halogens and LEDs than in the other types.
If you care about light quality and power consumption, LEDs are the only choice.
If you have recessed in-ceiling lights in your house right now and have never thought about your light bulb choices, you are probably using the "Cheap 65 watt builder-grade" bulbs above. These are an awful choice, because recessed lighting is often done with many fixtures. It's not uncommon to have 600-1200 watts of light burning into a single large room. Switch 'em out for CFLs for maximum savings, Halogens for medium savings and maximum light quality, or LEDs for the best of both worlds but with high upfront costs.
—
So there's my full report on this new technology, just in case you had never heard of it, or if you had and were curious about the performance. I feel that LED bulbs will completely replace compact fluorescent bulbs within the next ten years, since they are better in every way. Besides the reflector-style ones reviewed here, they also come in standard round shapes for lamp applications, as well as specialized ones for smaller lights and even car interior dome lights (so you can leave your interior light on accidentally for a month without running down the battery!).
But for now, they are only for the truly hardcore lighting enthusiast, since the prices are still dropping rapidly. My new 24 watt LED bulb will save me about $5.50 per year in electricity over an equivalent-brightness 75 watt halogen bulb. That's a 14% annual return on investment, which sounds good until you realize the price is dropping more than $5.50 per year. For maximum savings, it's best to stick with the alternatives listed in the bullet points above for another year or two. But keep your eye on these new beauties, since they will soon become affordable for all.
If you're already plenty wealthy and are looking for a fun MMM-approved way to spend a few hundred bucks, I give you permission go out and outfit your whole house with LED bulbs. If you select the "Warm White" color, and go for the highest lumen rating you can find of each shape, you'll be pleased with the results. And you'll be helping to save power and boost the industry to help bring the prices down for the rest of us. As I said, even at current prices, they're a roughly 14% annual return on investment*, which is better than a punch in the face.
*assuming a 3-hour per day run time and 10c/kWh electricity. You can then scale your own ROI directly if your numbers are higher or lower. For 6 hours or more per day, the LED is an even more obvious win, and it becomes cost effective to upgrade immediately.