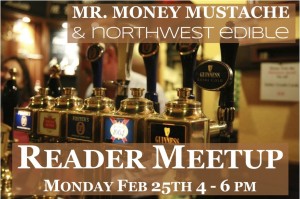 Hey there. Do you live in the North Seattle area and have an interest in sneaking out of the office a little early on Monday?
I'm meeting up with the excellent food and garden blogger Erica from Northwest Edible Life tomorrow, and we figured hey, we should invite YOU too!
A mingling of both blog readerships, with your favorite bloggers as informal hosts. The somewhat male-dominated group of Financially Sharp Badasses known as the Mustachians, and the Nutritionally and Politically Aware Ultrachefs of Northwest Edible, who I'm guessing are not quite as likely to be dudes who work in high-tech or medicine. Will sparks fly? What kind of party will ensue?
When? Monday Feb 25th, 4 pm – 6 pm
Where? Elliott Bay Brewing Company on Lake City Way in North Seattle. Map and directions here.
How Much? The Meetup is free, but do plan on ordering a drink or a bite to eat or something so the good servers at the restaurant aren't running around filling up water glasses for no pay for two hours.
Transportation  & Parking? Elliott Bay Brewing has a parking lot. Carpooling is encouraged, and bike or bus riding is even better. This venue is only about a mile off the Burke-Gilman bike path.
RSVP: It would be fantastic to be able to give the pub a rough idea of how many people are showing up. So, if you know you are coming, leave a comment here saying so. If you didn't RSVP but are able to come at the last minute, just show up! Don't let a lack of RSVP'ing keep you away.
Special Offer: First 10 Mustachians to show up on a BIKE get their first beer on me. Show your stuff by arriving in a non-car-way and be a hero!!
This post and the graphic heavily cribbed from Erica's original invitation.