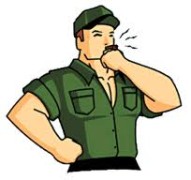 It's well past March 21st. Do you know what that means?
The boldest long-time readers do, and they have started needling me, in comments and emails, to check if I followed through on the goals I set for myself way back on November 5th.
I'm glad this has started happening, as it reinforces my belief that in certain cases, making yourself publicly accountable can motivate you to get important things done. Promise your boss that the work will be done by the next morning, and you'll be unlikely to slack off this afternoon. Tell your wife that you'll start drinking less, and you'll suddenly feel some pressure against the temptation to crack a beer every day after work. And commit to your fellow Mustachians that you'll lead a less consumer-oriented lifestyle, and it just might happen.
In my case, the goal was to gain 20 pounds of muscle (and an accompanying quantity of strength in three important lifts), by March 21st.  Some said it couldn't be done. Experienced lifters said it would be easy. I knew it was a stretch goal for me, since I've never gained weight anywhere near that fast before. But hey, big goals, big results, right?
In summary: I made it! .. Mostly. I passed 185 lbs on the scale in mid-March, and continued the zigzagging gain from there (During active times like this I tend to change by about +/- 5 pounds during different parts of the day). At this point, 185 is near the daily low, so it's safe to say we are there. And it is the good kind of weight – I look pretty different from the 'before' picture in the first article, loose pants and shirts are tighter, and it feels great.
As for the lifts: The 300-pound deadlift is now pretty easy, so I passed that test. On the bench, I baaarely lifted 290 pounds for a single lift this week. Not quite there, but I am still as excited hell because it is the strongest I have ever been, even though I could barely handle 200 last summer. The squat is further behind, with 275 x 3 reps last week being my limit. But again, compared to the beginning of the program, things are looking great.
Strict goal sticklers might shoot me down at this point. "You failed, MMM! You have to hit all four numbers to win!". But that's not how I measure success. I'm excited about doing better than before and seeing progress. Since I saw loads of it here, it reinforced my belief that I can do difficult things, even when they require habit change. I'm now motivated to set additional tricky goals and make them happen as well.
On top of that, I'm seeing the practical benefits I was hoping from gaining this functional strength. I haven't had an ache or pain in months, and the body feels like it's 18 years old again. On the recent snowboarding trip, I was able to take a day of "Jumping lessons" from my expert boarder friend, which involved hurling over enormous jumps without checking speed or chickening out – to fly confidently for great distances. When you do this, you end up doing some enormous wipeouts at high speed as a necessary part of the learning.  But thanks to the weight training, not a single sore joint resulted from the day of lessons. And finally, since January I've been framing a 2-story addition for a friend in the neighborhood. Every day at some point, I need to use every bit of strength I can gather, for lifting large walls, demolishing old roof rafters, or digging trenches. It is practical, and very fun to be in better shape now.
But enough about the results. What is more interesting in a project like this is the process. I was really trying to force myself to adopt new behaviors, which is a hard thing to do. It seemed to happen in phases:
Phase 1: Working with the Crossfit Coach
Here I had sessions twice per week for about a month. Motivation was easy because the program was new, and I had scheduled appointments that I could not miss without looking like a fool. Everything went as expected, and initial gains were pretty solid.
Phase 2: The Hawaii Vacation
Progress was slowed somewhat here because I did not have ready access to lifting equipment often enough (which was my own fault). But it was redeemed by the fact that I had committed in advance to stick with the program. So I did lots of improvised workouts, and ate very well too. The habit of regular heavy lifting was being reinforced.
Phase 3: The Home Stretch
After Hawaii, I got to work in earnest. I improved the nutrition program, and shifted the workouts to my own basement, since I find (oddly enough) that now I have the motivation to work incredibly hard at home. Progress accelerated and new records came almost every week.
..except..
The construction project became a bit of an excuse to miss lifting sessions occasionally. I found myself concocting bullshit excuses such as, "Well, if you're carrying wood up and down ladders for 6 hours, that's pretty good exercise, right?" (it is, but it won't make you stronger because 2x4s and sheets of plywood don't weight 3oo pounds). On top of that, I got a serious cold last week that kept me out of everything for a few days. And to make matters worse, my "straight line progress tracker" only went to March 21st. After that date, I lost the daily reminder to keep things moving forward.
It is always these unexpected little clusters of events that distract well-meaning people from their habit change programs. But I now know to look out for this stage, both from my own failures in the past, and from reading all those habit books recently. The key is to keep training yourself using daily cues until you have repeated the behavior long enough to create a real habit. And when I look back on these 4.5 months, I can see there has been a lot of repetition. The whole period seems like a blur of barbells, pleasantly sore muscles, and high-protein feasts*.
I made a new fridge chart with even higher goals, and now I'm back to seeing it every time I enter the kitchen. And the habit seems to be forming permanently as well – I find myself itching to get down to my basement gym every day at about 10AM. It's almost like a coffee craving, and I definitely intend to indulge it.
So, thanks for the motivation and for checking in on me. I am excited to see what other good things I can trick myself into doing in the coming year. How have YOUR goals been coming along since November?
Update – June 19th, 2013:
3 months later, I've kept the strength but gained only a tiny bit more. Without concrete goals and a big reason to do it, there hasn't been much motivation to do the hard work required to get further. On the other hand, the regular lifting has really stuck in place, and this is certainly a fine place to be already.
*Some people have requested that I share tricks on how to eat healthy foods in great enough quantity to gain 20 pounds, AND maintain a reasonable grocery bill – especially now that I don't eat bread, rice, or pasta. It's pretty easy, so I will share what I did learn in an upcoming post. Which is quite appropriate, since April is going to be a health-and-fitness themed month on this blog in general. Anti-Automobile-April has a nice ring to it.