These days, I do a fair amount of informal financial coaching for both old friends and newer acquaintances.
It's a pretty amazing experience, almost as if I were a real doctor – people let down their guard and talk about the details of their financial lives, without the usual hangups and secrecy that tend to plague our society when it comes to the subject of money.
Often, even taking this first step is a huge leap towards creating a more wealthy and prosperous life. Money conversations are not something we should reserve only for our paid professional advisers. We should speak about it openly with our friends and family, and support each other in a lifelong quest to make the most of our lives.
Through these hundreds of little sessions, I have started seeing a pretty consistent pattern:
People who struggle with money see the whole subject as a swirling, confusing mess. Income and spending, debt and retirement accounts are everywhere. They describe the situation in a long, meandering paragraph.

People who are good with money have this stuff more mentally sorted. They can quickly list their income, their assets and debts, and most importantly they know how much money they spend each year.

People who have been good with money for a long time have moved even further. They might not track it very closely, but they still maintain a growing surplus – because living well within their means is just a natural habit, which means there is no conceivable way they can run out of money in their lifetimes. People in this category sometimes need to be coached away from the habit of being too "cheap", and towards making the most of the opportunity of a lifetime.
As an MMM reader, you are headed straight for Option #3 above.
But you may have to move through #1 and #2 to get there, which means sorting things out and tracking your spending.
Tracking Your Spending is Fun, Useful, and Easy (Yes, really!)
I can already hear your collective groan as I give you this prescription, but adding up your past year's spending is one of the most useful things you can do with a Saturday morning, and here's why:
You can see where your money is going to waste and where you can make really easy improvements that completely change the course of your life
You will get the courage to switch jobs, houses, cars, and other life decisions as your fuzzy swirling financial paralysis transforms to a crystal clear understanding of money – one of life's most useful and fun tools.
You can immediately see how much money you will need to retire. (just take your annual spending and multiply it by 25 as recommended by the 4% rule)
I'll show you my spending if you show me yours.
Now for the fun part. I like to think that I live in "Category 3" of that list above – most of my major life expenses (housing, cars, health, food, clothing) are lower than average, because I have simple tastes and I love optimizing things.
Meanwhile, I have several sources of income which add up to many times more than my living expenses (stock index funds, real estate investments, this website, and side hustles like carpentry and operating the MMM HQ coworking space.)
So I haven't been tracking my spending for a while. But a couple of years ago I went through a major life change – the former Mrs. MM and I split up and moved to separate households in the same neighborhood.
With the old routines shaken up, and new things like hosting more parties, outfitting a new home and increased friend/family/long-distance-relationship travel, how has my bachelor spending been transformed?
It's time to find out.
How Do You Track Your Spending?
My expenses are really easy to track: I funnel all my spending through a rewards credit card, which saves me about $2000 each year. (in 2019 I used the two highest-paying cards from Capital One which you can find here.)
Meanwhile, I hook up a third party financial app to automatically monitor these transactions, alert me to any unusual activity, and – the best part – automatically categorize and add everything up for me. I've been using one called Truebill for a couple of years*, and it has the simplest interface of anything I've tried – you get results like this:
Truebill is great for tracking and improving spending, and you can also track with Personal Capital, which I have used for the last five years or so mostly for keeping tabs on all my net worth (see my 2013 article on that).
BUT you can also all this quite easily with no apps at all, just by downloading the full list of your 2019 transactions from your bank and opening it up as a spreadsheet. In Capital One (which I also use for my checking account), I just clicked on each account and there is a link for "Download Transactions" right at the top of my transactions list.
For me, it was extra easy because I used the same bank for both checking and credit cards, so everything shows up on a single login screen like this – kudos for Capital One for doing this so well since most banks have pretty bad websites: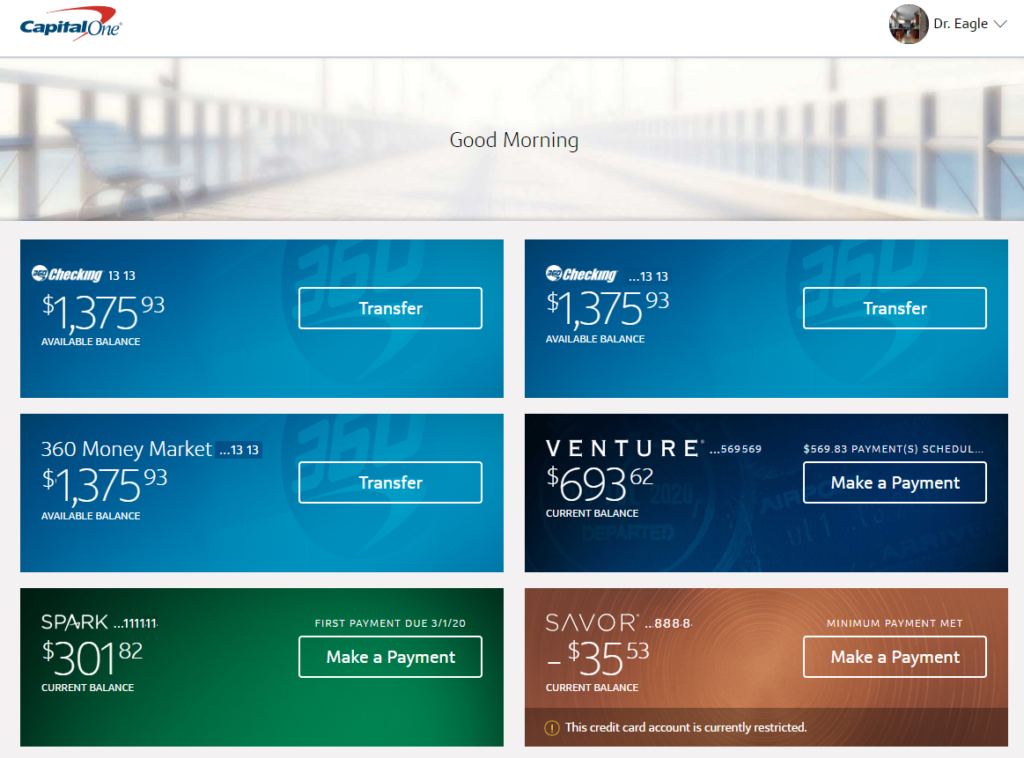 So whether you use an app or a conventional spreadsheet, tracking your spending is quite useful, to know where you are now.
But the biggest message to take home from the results is this:
These are not your "living expenses." This is your current level of spending, something that is entirely under your control.
There is always a trick for everything, and you get to decide how many of these tricks to apply.
For my part, I try to use only the tricks that save me money and make my life better in some way. For example, I do my own carpentry and I use my own legs for transportation, because these are a win/win for me. But I do pay an accountant to do my taxes for me. Your own choices may be completely different, but it's important and empowering to use that word – choices.
Special Notes Before I Share This
The table below will shock some, offend others, and hopefully inspire you to at least consider a few new things. But because of my unique life situation, I have made a few unusual choices. I'll explain them in advance so the table will make more sense.
Do I really have zero medical expenses?
Yes, and I have for my whole life – this is a probably combination of dumb luck (genetics) and hopefully-smart luck (I made a guess that 1-8 hours of outdoor physical work, bikes, barbells and salads every day would be good for my health and so far it seems to be working.) But I know this is not a lifelong guarantee, because there are no guarantees.
What about kid related expenses?
My little 13-year-old is pretty low-maintenance these days: he develops stuff on the computer, plays the bass and rides scooters with friends. When we are together, we do these same things along with hikes and bike rides and the odd road trip. Other kids are into more expensive activities and that is wonderful if they enjoy it and you can afford it. This table includes the half of his food and necessities that I pay for, but does not include any money that changes hands between Former Mrs. MM and myself over these final four years of our co-parenting project. However, I am infinitely grateful for how happy and cooperative our arrangement has become, and suffice it to say that nobody needs to feel sorry for either of us in the financial sense either.
How can you even sleep, with no house insurance and no health insurance?
This really depends on your personality type – and mine may be unusual in this regard. I simply don't worry much about things like theft, accidents, fires, disasters or anything else. I certainly know they are possible, but my mind thinks in statistics and probabilities rather than emotions or fears. In other words, I'm a bit of a robot. And the robot in me says, "On average you will make a profit and you can afford any worst-case consequences, so why buy insurance?"
For people in situations where losing a material possession would be a big deal, insurance may be appropriate. But I also still like the old-school advice of "don't buy stuff that you can't afford to lose, and take really good care of the stuff that you do have."
But this will all be covered in more detail in an upcoming article about health insurance, including an interesting new option I am just about to try this year.
What Else Are You Hiding From Us?
My businesses pay for some stuff (blog-related trips, this computer, tools, etc.) that happens to be fun for me too – this may prevent me from spending personal money on other fun stuff.
Charitable donations, which now total over $300,000 (see previous article), are also not part of what I consider spending. To me, these are a reallocation of a good part of this website's income to causes that need it more than me. But I probably wouldn't be brave or badass enough to give away much money, if I were only earning the bare minimum needed to cover my lifestyle spending in the chart below.
And I don't include income taxes in my spending, because if someone really lived on a level of retirement income to cover even twice this level of spending they would pay no tax. In my situation, I do earn more than I spend, and pay plenty of tax on it. But much like the charitable donations described in the last article, I think of income tax as just another way of contributing a small portion of this super-lucky surplus back to society.
It's really not a big deal – and I find that statement to be true in all areas of life: as you get older and your material desires drop away, fewer and fewer things seem like a big deal.
Okay, let's get into it!
MMM's 2019 Bachelor Life Spending
(all figures are for the full year)
So, What Now?
Well, this was a pleasant surprise. I had felt like I was living a total billionaire's life in 2019, because it has been so packed with interesting people and places and experiences. I always buy whatever I want – after considering whether it will really make me happier – and this leads to a feeling of almost dizzy abundance. But I guess abundance just isn't that expensive.
2020 is shaping up to be an even bigger year of personal growth and better friendships and hard work. I'm drawing up the plans for an exorbitant second-story deck off of my bedroom. The Tesla Model Y comes out in just a few months, and I am in love with it.
It could get expensive.
Stay tuned and I will let you know how it goes!
In the Comments: do you track your own annual spending? If so, how did you do last year? If not, what is your reason?
*About Truebill: I heard from Haroon Mokharzada as he was just founding the company, and was impressed with his background of seeming to be on the "good guys" team. So I have been a casual user ever since, just to follow their progress. The Truebill service/app is now good enough that I can see it being useful for many people – not just for tracking spending. And they have a sizable development team and a large and growing base of happy users. Nice job y'all!
Affiliate notice: While I have no financial relationship with Truebill, this blog may get a commission for other recommendations within this page, including Personal Capital, Airbnb and the credit card recommendations. And many thanks if you do use them!