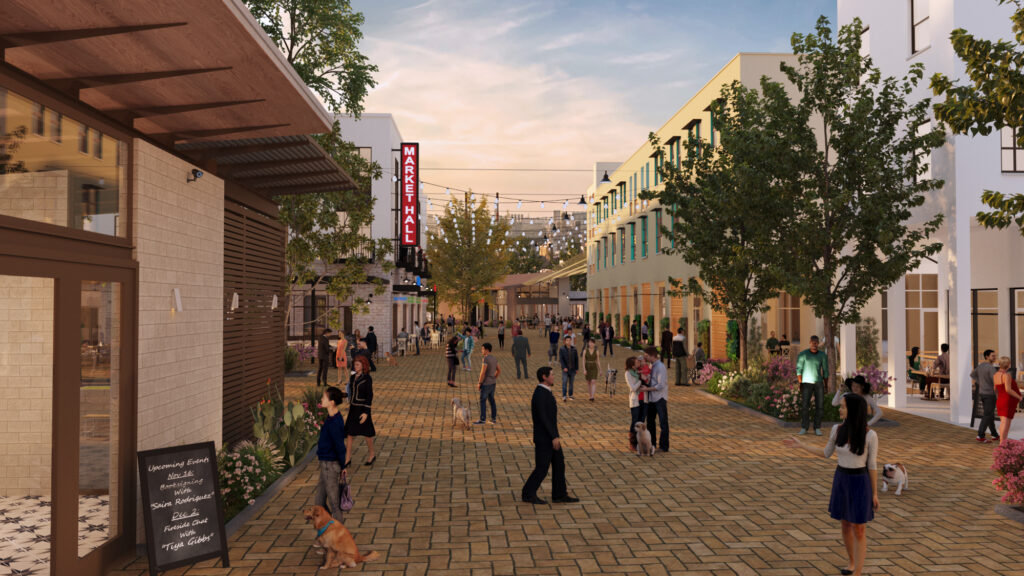 In my role as Mr. Money Mustache, I do my best to be your one-stop-shop for Lifestyle Guru ideas. So over the years we've covered not just the Money side of life, but also the even more important stuff like health and fitness and the psychology of better, happier living.
But there's one single area of life where all of these factors come together with an almost Nuclear Fusion level of synergy and effectiveness. And because of that, if I could have one single wish in the world, this is what I would wish for. It's a change so massive that it would make every person on the planet better off and fix most of our problems in one grand sweep. And it's probably not what you'd expect:
That we immediately switch to building our cities and countries around people, instead of cars.
(and then fix all of our existing ones too, so that our entire world is built around person-friendly living.)
The benefits of this are way bigger than almost anyone can imagine. We're not just talking about eliminating a bit of pollution or a few traffic jams or car crashes. No. This is about far richer, healthier, and most importantly more fun living for everyone.
To put even conservative numbers to this, we're talking about a life boost of over $20,000 per person per year, which compounds into well over two million dollars per adult lifetime.
On a nationwide scale, this would boost the wealth of the United States by about seven trillion dollars per year, which would compound into about 770 trillion over the next five decades.
Which happens to be more than the current total amount of human wealth on the entire planet.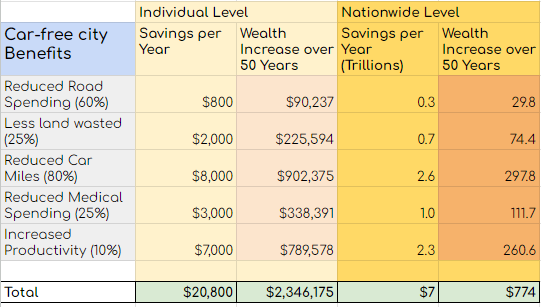 You will have a house that is both cheaper and more beautiful and spacious. Your body and brain will be healthier and stronger and sexier and cost a lot less time and healthcare dollars to maintain.
And all of our wallets and investment accounts, both public and private will be absolutely overflowing with surplus income, reduced expenses, and fuel an investment and prosperity boom like the world has never seen.
"WTF?", you may ask
"Isn't city planning just a stuffy thing that your city council does in the background while we're all off living our lives?"
Well, yes it is right now. And that's the whole problem: cities are built by people whose primary job is to maintain the status quo and prevent disruptions. And those committes are elected and encouraged by crusty old companies and organizations, and plain old grumpy neighbors who just don't have the vision to see what they are missing.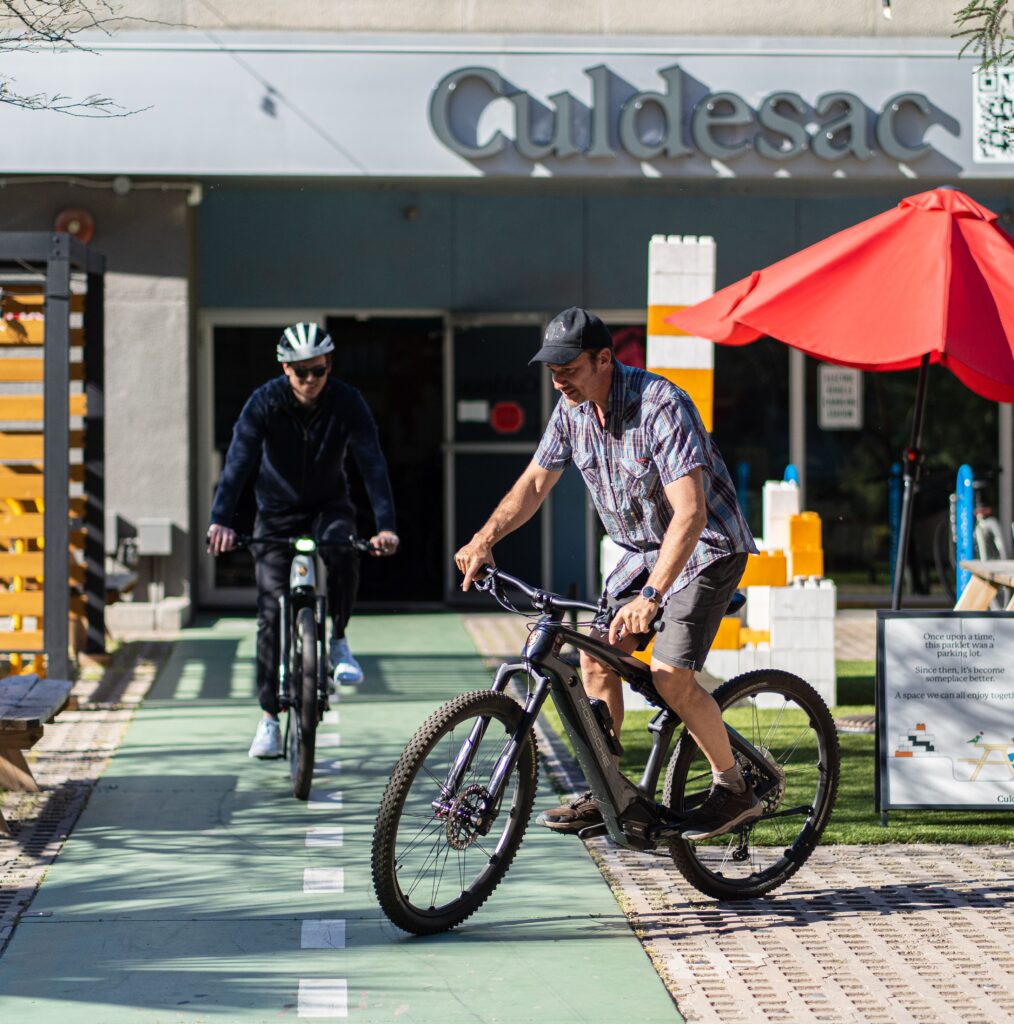 I'm convinced that if everyone could see through the smoggy haze of the status quo, we would all agree that this idea of a radical change is not only the best idea, but the only reasonable idea to even consider.
So our job is to learn and explain just how big and how easy this is. And what it boils down to is pretty damned simple.
Let's start with this picture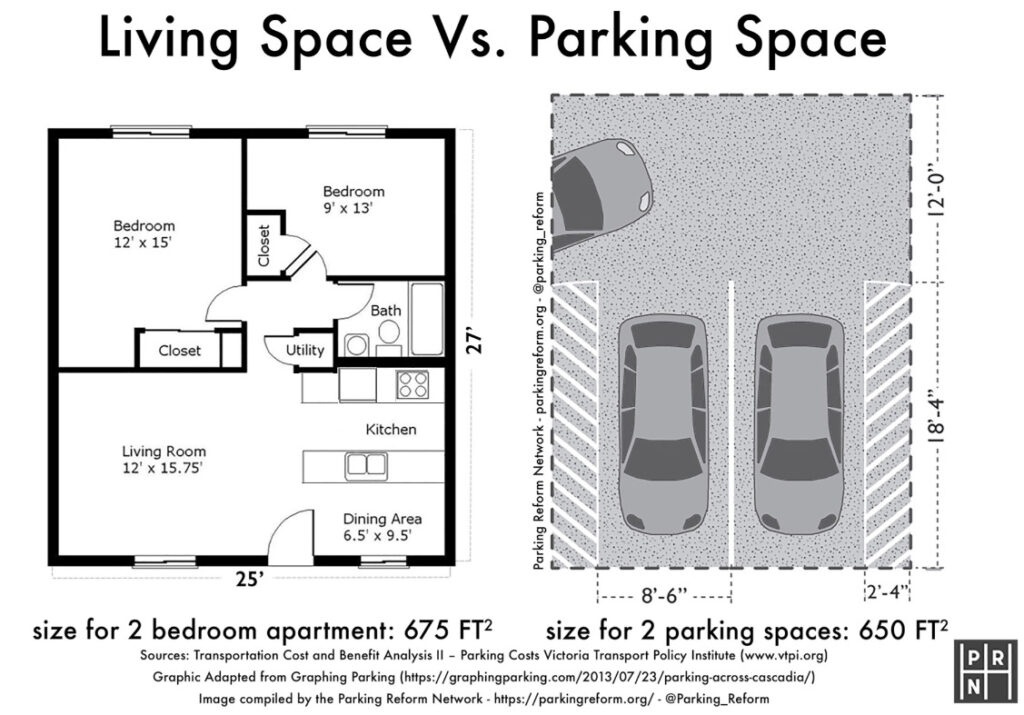 Whoa, that's a bit of a surprise.
So for the same amount of space you can have an entire pretty nice two bedroom apartment, or you can have just enough space for two (small) cars to park and pull out. But it gets even crazier than this. Check out this random intersection here in my own city: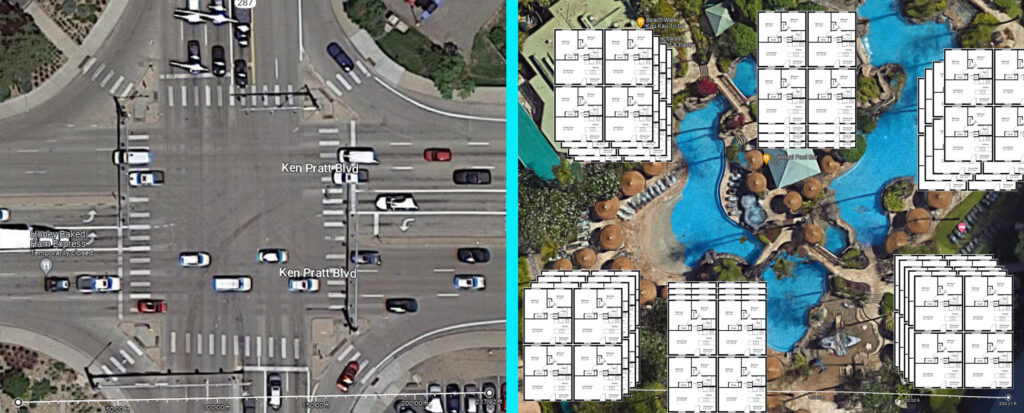 WHAT?! So every time you have two big car roads intersect, which happens hundreds of times in every big city, you are wasting enough space to build a luxurious, resort-like living area with about one hundred two-bedroom apartments and still have room for a pool, a dog park, a grocery store, a couple of restaurants, and so on.
This is just the beginning of the insanity, because I have only shown you two parking spaces and one intersection. The reality is that our entire cities are made almost entirely of stupid, expensive wasted space like this.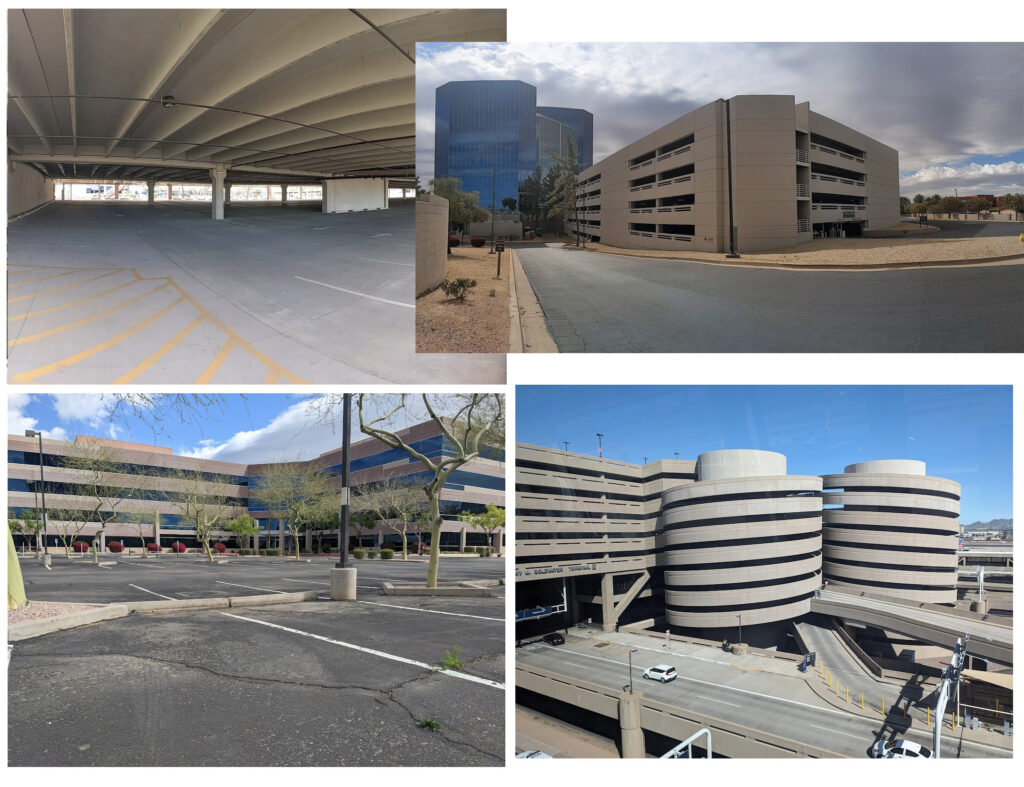 And the problem is so extreme that the only reason we think we need cars to get around, is because we have wasted most of our space on accommodating cars, which spread everything out so far (and made everything so loud and dangerous) that nobody feels like walking or biking!
Cue the Complaints

Whenever you propose any great new idea, you'll always get a bunch of smartasses who like to complain and resist change, without even bothering to think it through.
Most of them boil down to,
"But how are we going to keep driving our cars just as much as we do now?"
Which is ridiculous – because the whole point is that as soon as you cut out all the huge wasted spaces we create to accommodate cars, you are suddenly FREE from needing cars so much!
Instead, you can just weave a brand new city, with a bunch of variations of this beautiful resort which also include offices, grocery stores, climbing gyms and every other amenity.
And yes, you'd still have some roads between them, but they would be mostly for deliveries, emergency vehicles and people who need mobility assistance.
I hope you're not going to make me ride the bus?
I am all for public transit in theory, but to be honest I don't usually have the patience for it. I don't do lineups, and I don't like stand around waiting passively for my transportation to arrive – when it's time to go somewhere, I just want to go, and go now, and get there fast. So my own personal choice is to take a bike for short distances (under 2 miles) or an e-bike for larger ones (up to about 15 miles). 
Although this is often news to car drivers, bikes are much faster than cars for urban transport, plus they give me exercise and thrill, which is way better than being stuck at the red light with the cars.
If you take this already-superior method of urban transport and cut out the 90% of the land that we waste on accommodating the inferior cars, then you end up with a revolution: everybody gets where they are going ten times faster, at much lower cost, and has much more fun doing it.
And sure, there will also be light rail and faster buses. And sure, you can still hop in an Uber or even bring your own car into a city like this.But the point is that it will just happen much much less often.
Okay I'm convinced, but how can we actually accomplish this?
Mr. Money Mustache can talk a big game with all these fancy words and pictures, but the truth is that I'm way too impatient to put up with all the bureaucracy and complaints that arise when you try to actually change a city. I've been doing my best here in Longmont, and I have gotten just about nowhere. We're still just stacking on more and more layers of ridiculous car shit where I live.
Thankfully, other people are much more patient and effective than I am at affecting change, and one group has made such incredible progress that you can now go LIVE in their first creation: a 1000-person car-free neighborhood called Culdesac Tempe. And as I write this, I am staying in a hotel right nearby, having spent the past two days touring and visiting and interviewing the founders*.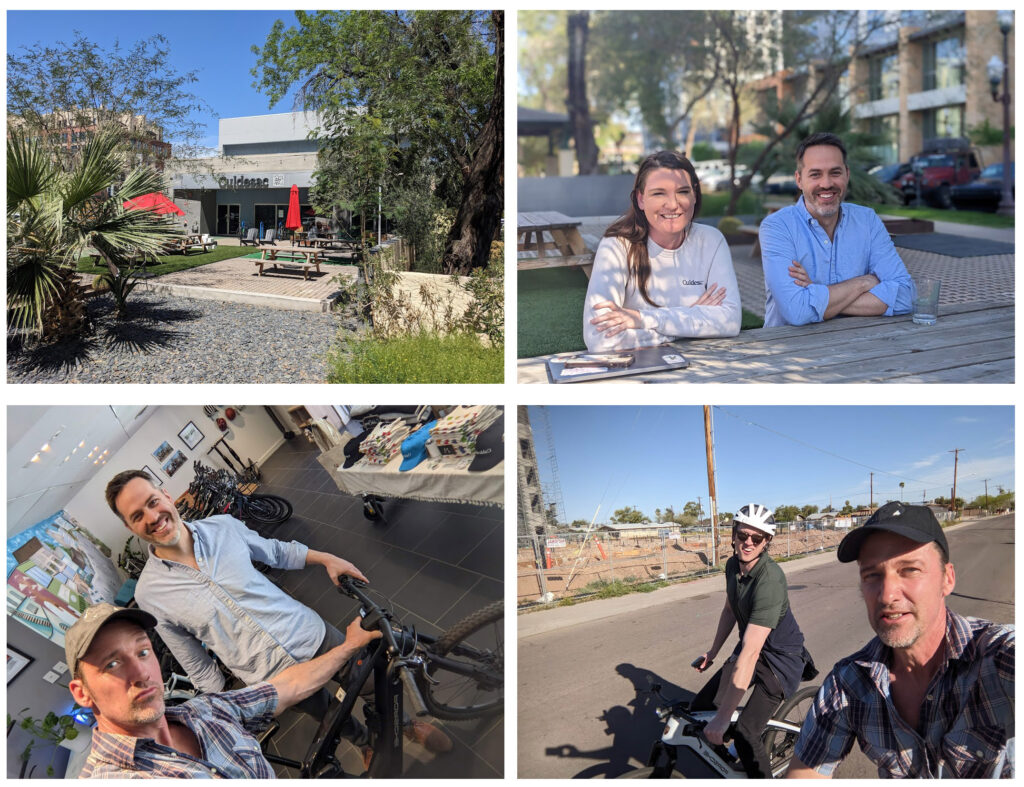 While we were at it, my Phoenix-area-house-fixing friend Tracy Royce and I also hosted a meetup for an enthusiastic group of our readers/viewers right there in Culdesac's emerging central plaza.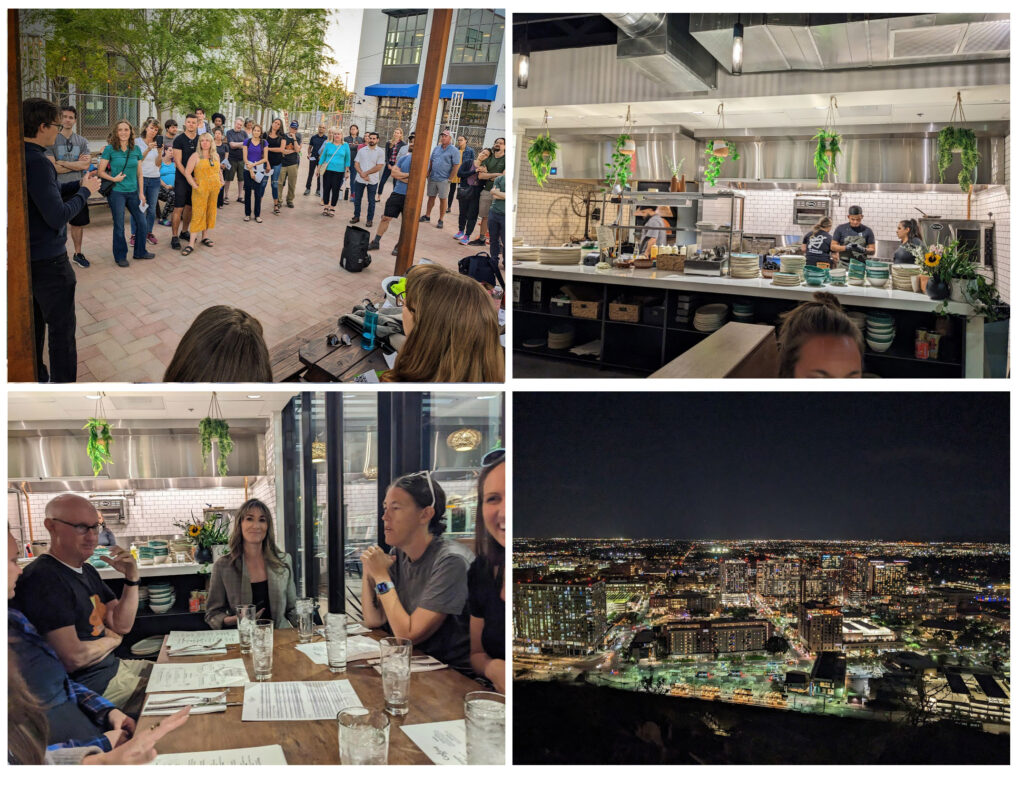 Culdesac is Awesome and Could Change Everything
If you only look at the financial spreadsheet, you would think this first Culdesac project is just going to be a highly profitable 1000-person cluster of apartment buildings, spread out across 17 acres of land. And while financial sustainability is indeed a key reason why this model will succeed, the money is the least exciting part.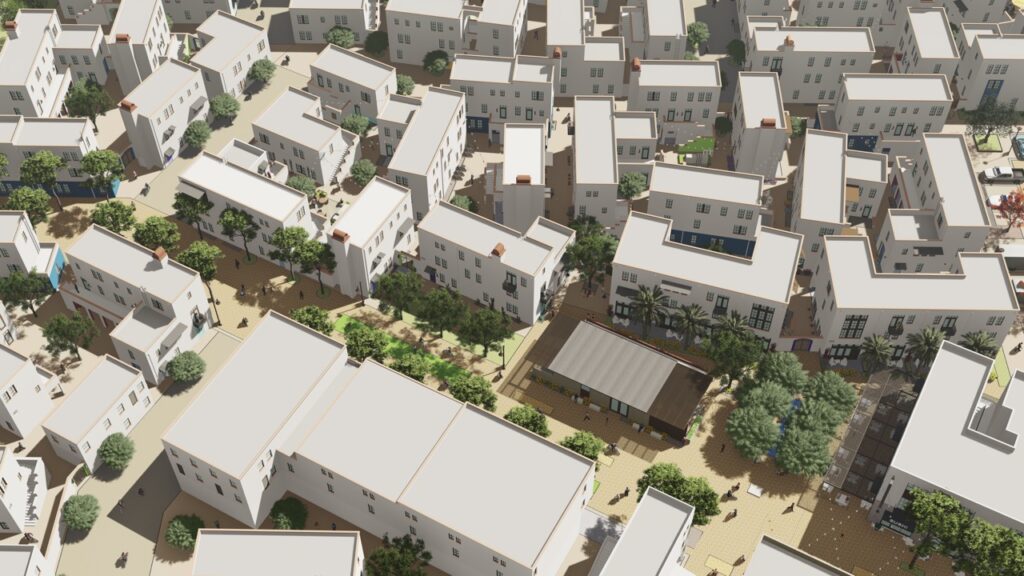 When you look at these pictures compared to a normal housing complex, the main thing you will notice is that all the space that would normally be wasted on parking lots, is instead used for beautiful walking and gathering areas.
The next big upgrade is that they mixed in the amenities for daily life right into the neighborhood, rather than forcing all the future residents to get into their cars to drive out to find them:
Grocery store, similar in style to a small-ish Trader Joe's
Fantastic gym (which I got to tour – it is a beauty!)
Coworking space
Dog park
Pool
Outdoor kitchens and shade structures and garden areas galore
Semi-fancy Mexican restaurant with ample patio space
And lots more retail space also in the construction plans
I was also impressed with just the feel of walking the Mediterranean-vibed spaces between the buildings, even at this early stage when everything is still under construction.
Due to the hot desert climate of the region, everything is built around providing shade, breeze, and reflecting heat during the summer, while also maximizing the joyful fact that there is no winter there (the coldest month of the year still has an average daily high of 65F/18C, which means palm trees, leafy gardens and fruits and flowers forever.)
With a setup like this, and 999 new neighbors to meet, I would rarely feel the need to leave the place. Which really cuts down on my desire to use a car. But on top of that, Culdesac has strategically placed itself in Tempe, a city right in the center of the Phoenix metro area, within walking distance of the main university and right on a light rail stop which allows you to reach almost everything (including the airport) for FREE, since an annual pass to the transit system is included with your rent.
But of course, you can also get around on foot, bike, e-bike, scooter, or hop into one of Culdesac's fleet of rideshare electric cars for a trip to the mountains or whatever else you might want to do that's outside of bike and transit range.
It's insane. In fact it's so good that I am going to attempt to move there myself at the end of 2023, enjoying my first escape from Colorado winter and celebrating the fact that my boy will be a legal adult at that time.
But even this is just a pilot project because Culdesac has much bigger plans.
The Culdesac Master Plan
From my conversations with the founders, I think they want to do this:
Start with this small-scale community of rentals, just because it's faster
Use this to get the word out and learn from the experience before going bigger
Move up to a larger-scale communities which will also include homes for sale
Go REALLY big, and make an entire section of a city, then eventually an entire town which grows into an entire city
Meanwhile inspire the rest of the United States to go the same way, once they see that this type of neighborhood is both more desirable for people, and less costly (therefore more profitable) to build.
So How Can We Benefit From This, and Support it?

If this article gave you any surprising new information or changed your perspective at all, you've already made a difference. Because your choices around housing and transportation will probably shift at least a little bit away from cars, which will change our future demand and development patterns to be at least a little bit better. Congratulations!
If you'd like to be one of the first residents of this first neighborhood, sign up right on their website at https://culdesac.com/ . There is a waiting list, but it moves faster than you would think – especially if you have a flexible moving date.
If you'd like to make your own city a better place to live, just start emailing your own city council, or even better, sign up to serve on your own local planning board or city council yourself, as the heroic gentleman from Twitter did above. The things to push for are: approve more housing and more bike paths, but eliminate minimum parking requirements and above all stop wasting money on road expansions! Every dollar spent on accommodating cars subtracts many dollars from the future wealth of your city.
If you are a major investor ($10M+) or land owner (20+ central acres in a high-density city) looking to invest in and boost this effort, email the team directly at investors@culdesac.com – more info on their about page.
And Then What Will Be Our Payback?
This whole change is exciting, and it is immense.
Understanding these ideas around city planning is the economic and social equivalent to being a doctor, and finding a 35-year-old patient in a hospital who is suffering from every chronic disease, but then discovering that they have been following a diet of Coke and Donuts for their whole lives and never been out on a walk, once. 
In other words, the changes are so obvious, and the amount of win/win synergy so great, that every step we take towards making our cities better, and every car trip we eliminate, will absolutely explode our personal and national wealth upwards for generations to come.
The stakes just couldn't be higher.
Are you in?
Further Reading:
Another collaborator in the overall effort for car free cities is a bank-founding multi entrepreneur local friend named Kevin Dahlstrom. His recent Twitter rant on building car-free cities from the scratch gathered a shocking amount of very positive feedback and interesting comments.
* Despite my positive raving about this neighborhood, I have no financial or business connection with the project or any of the team members. I am just really excited about their work and want them to succeed!