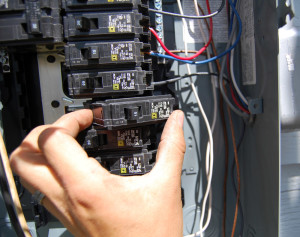 After the first article in this series, ideas started coming out of the woodwork. You might be amazed to hear about what some of your fellow readers have been up to. We ended up with more than enough to reach the goal of 50, and quite a few were new to me.
Real Estate Related
(thanks to Mrs. MM for many of these)
18: Real Estate Agent – a two month course ($800 at Kaplan) and you are out there. Then after 2 years of working beneath an existing agent, you can even go independent and keep everything you earn. With commissions around 3% of the sale price, you only need to handle about nine $200k houses per year (or four $450k ones, which is silly when you are on the customer end of things but cushy if you're the agent).
19: Home Inspector – another short training course (plus good building knowledge and interpersonal skills in general), and you can get paid about $300 for 2-hour inspections.
20: Sewer Line Inspector – run a camera wire down through the floor drain in the basement, record the resulting video while looking for cracks in the pipe, charge about $200 per 20 minutes of work.
21: Appraiser – tour the house, run the numbers, email the report. $400 or so for a few hours of work. Initially your agency will take a cut, but of course you'll start your own when ready.
22: Property Manager – You don't have to actually buy rental houses, you can just handle the tenants: collecting rent, coordinating maintenance, shielding the landlord from the messy business. Pay can be great at around 1/12th of annual income of each property. With a stable of 20-50 units under management, you already have a $50k job that occupies well under 40 hours a week.
23: Mortgage Broker – understand and originate loan products to people buying houses. Meticulous and lightning-fast customer service is the key differentiator here rather than financial skill or education level. We know several people making well into the six figures in this area.
24: Title Insurance Provider / closer / salesperson – a mysterious industry with a high profit margin.
25: Fixing up Your Own House – With design sense and construction skills, you can move into a junker, renovate it efficiently, and sell it. If you live there longer than 2 years, the profit is tax free in the US. Eliminates most of the hassle of running a professional contracting business with fussy customers. Works best in the more expensive property markets so you do need roomates or spouse to pay the mortgage while you do the work, unless you already have savings to live on.
More Manual Jobs
26: Oil/Gas/Mining industry work – The energy boom in the US, Canada, Australia, and other places continues. In states with high demand, wages have risen far beyond average for people to run the equipment (and even higher for engineers and scientists able to run the overall operation). This story about the lad in Australia making $200,000 (and blowing it all) personifies the industry.
27: Wallpaper hanger – Sound antiquated? Think of hotels, what's on most of their walls, and how often they renovate: From a reader: "I've been consistently pulling in anywhere between $400-$1000 per day for years now"
28: Lady Mechanic/Garage owner – Mrs. MM suggested that today's auto repair garages are generally male-oriented and clueless to the needs of a certain 50% of our drivers. Enter this Rosie's Garage style of business that would combine full mechanical competence with a better understanding of how female vehicle owners would like to be treated. A very large niche market indeed!
29: HVAC (Heating, Ventilation, Air Conditioning) technician – furnaces and air conditioners (and their related ducting) are simple machines, but there are not many people in the trade. So the pay is high if you run your own little business.
30: Cable/Phone/Internet Installer: the larger companies subcontract this job out to independent contractors. Readers report that earnings can exceed $50k per year, especially in a growing metro area which tends to result in overtime or holiday work.
On the Road:
31: Truck Driver –  a grueling job at times, but the perpetual shortage of drivers has driven up rates. Bonus earnings if you own and maintain your own rig, and/or work in a remote or high-demand area (seek out the oil boom areas mentioned earlier and specialize in safely transporting drilling/mining equipment or piloting 300-ton rock trucks, for example).
32: Airport Shuttle Driver – on a recent trip to the airport, I got to talking with the Super Shuttle driver. A former electrician, he reported to me that all drivers are now independent contractors who own or lease their own blue vans. This fellow, with a mind for efficiency, was running a van with a smaller diesel engine and optimizing his routes and road selection. He also gives out free beverages and treats people well, which optimizes tip income. Earnings were over $100k per year.
 More Tech and Internet
33: User Interface Specialist – From a reader: " In a nutshell, I make websites easy to use. I charge $80/hour, but will soon be raising that to $90. There are so few people who do what I do that I turn down about five offers for every project I accept."
34: Computer Technician – "You get a small roster of local business people who need their computers to work, and fix their minor Windows and networking issues. You can even branch into home theater and home automation, and the hotel and conference market. Geek Squad makes big bucks at this, but you can easily outperform them and charge $50-$100/hour"
35: IT Guy at the South Pole – the National Science Foundation contracts out workers in all fields to run the science labs on the bottom of the planet. In exchange for unusual conditions (-100F outdoor temperatures, months of blackness), you get free living with interesting people which allows you to reach the storied 100% savings rate. Honorable mention goes to this South Pole reader/photographer who sent me pictures of daily life in Antarctica. This concept can be applied elsewhere, even on tropical islands: live temporarily where your skills are in demand, get paid more, plus free living expenses.
36: Software Designer – Back in my day, the better jobs in this field required a full degree. Nowadays, you can prove your competence without one and get the same jobs at the more open-minded companies. This doesn't mean it is easy – it takes a certain type of mind to be marketable at this, and a certain amount of practice on top of the base learning of the language itself. But for those with the prerequisites, Ryan Carson of Treehouse finds these sub-fields are in demand:
36(a)iPhone and Android app developers – Every big company needs phone and tablet apps developed to meet their own specifications. Or you can go it alone and bring your own ideas to fruition. A friend of mine is a tech worker by day, brilliant Ph.D. physicist by night. In his spare time he developed a beautiful iPad physics-based game where you get to shoot planets around each other. Occasionally, people buy it for 99 cents, and if your app catches on, it becomes a source of passive income. With the skills he developed making this game, he can now make other apps very quickly.
36(b) Web Developer- where you create the technology and algorithms that make websites work. Sort of a form of software design or programming.
37: Web Designer – where you create the beauty and functionality seen by users – more of an art/design job.
Catering to the Rich
This is a general category, because once you master the philosophy, you can apply it anywhere.
What do rich people have? Lots of income. What are they lacking? Time, and a supply of people to satisfy their numerous particular demands competently without screwing up.
If you can meet these needs, they will pass your name around the Rich Person Network of Friends and you are set for life.
38: Dog Walker – Four dogs at $15.00 per hour each. Walk around in the park for four hours a day and you've got a $50k job that is only half-time (and a great set of legs to show for it too).
39: Doggy Daycare or Pet Spa Owner – a natural extension of the Dog Walker. Dog owners need to go on vacation, and when they do, they pay hotel-like prices to have their pets cared for in their absence.
40: Frugality Consultant / Personal Shopper – I made this job up myself: Rich people spend more on groceries and wine alone than you spend on your whole lifestyle. What if you could run their errands, keep their pantry stocked, and coordinate maintenance of their mansions and vehicle fleets.. and yet save them more than they pay you in salary because you are an expert at efficient shopping, energy conservation, and maintenance? A valuable proposition if you can get your name into the right hands. I often fantasize about creating a "job" like this for myself in Hawaii or Malibu. Sydney would be nice too.
41: Interior Designer or Color Consultant – Here you get paid simply for having good taste and sharing it with others. Start by optimizing the homes of your own rich friends or family members, then getting them beautifully photographed. Then get the portfolio out into the network of high-end home builders and their customers. I have met several of these people and envied their relaxing and profitable jobs.
42: At-home Waxing, Haircuts, Massage, or Spa treatments – who has time to go out to a strip mall to get their pampering these days? Take the business to the customers.
43: The Pooper Scooper – from a reader: cleaning up the back yards of wealthy dog owners pays about $1.00 per minute. Not a glamorous job, but more efficient than flipping burgers for one tenth the pay rate.
People Jobs
44: Salesperson – a general category to be sure, but it pays well if you have the right skills and select the right industry. One hot area today: finding placements for consultants in the software and technology industry. Sales is a dream job for some, hell for others.
45: Debt Collector – hassle late payers over the telephone, collect commissions. I would not have guessed that this pays well, but a reader reported that it is fairly lucrative.
46: Private Tutor – whether teaching younger children or college students, this is an area where solid knowledge of a useful field, and a comfortable manner with people, are what determines your pay. But this rate is usually much higher than $25 per hour.
Miscellaneous
47: Ebay/Craigslist / Etsy / Freecycle / Kijiji Reseller – If you know the value of a certain product, you can identify undervalued items when they go up for sale. In my case, this might be appliances. By spending five minutes per day scanning new listings (or setting up automated alerts), I could scoop underpriced appliances and buy them immediately.. then re-sell them at a large profit. Bonus points if you have the ability to repair or refurbish things. Better photography and marketing also increases your resale price.
48: Food Truck Owner – the age-old mobile food vendor is back in vogue these days, but with a gourmet twist. By getting your food and your image right, you can develop a cult following in an area and clear $1000 per day in gross sales from a single vehicle. Enormous bonus if you can set up your truck in an area anywhere near a tour bus stop, then get the word out to the tour operators.
49: Boutique Organic Farmer – with the rise of "Foodies", and big agribusiness companies like ConAgra and Monsanto rightfully deep in the public relations gutter, there is a now a lot of money flowing to people who can produce healthy food locally in high-income areas. In Colorado, I know two entrepreneurs who sell things like organic basil, eggs, and heirloom tomatoes to fancy people and gourmet restaurants, and make more money than either of us doing it. Startup costs were surprisingly low, but you do need to know how to grow.
49.5: Medical Marijuna Grower – in states where this is legal, it is a lucrative field. Competition is growing, but the window of opportunity is still open since many of the early success stories were potheads rather than business people. If you meticulously study and comply to the laws and efficiently grow the fast-growing plants, this is a $100k job out of a single basement.
50: The Military – formerly a mysterious field to me, I learned more about this when living in Hawaii last winter, where many high incomes are derived from the large US bases in the area.  Far from the usual stereotype of a bunch of musclebound guys with guns, the US military is in reality just the world's largest high-tech company. Most of the jobs are related to circulating enormous amounts of technology, people, information, and equipment around the world. So there is far more engineering and office work than there is shooting and jet piloting. Pay and benefits are generous, especially if you can get assigned to a post far away from where you originally lived, thus scoring a tax-free housing allowance. Or get the fully funded university education that comes as part of some contracts. And that's before we even get to the part where you work for 20 years and then qualify for a plentiful pension and free healthcare for life afterwards. It's not easy and there is the chance of danger, but it is a real career.
—
We're up to 50, and I didn't even get to the end of the list submitted by family, friends and readers. The field of Alternative Moneymaking really is a big one, but hopefully these examples serve to illustrate the general theme.
To earn more money, you just need to identify one of the many showers of cash that are spraying in this prosperous but inefficient world, then position yourself under it with a bucket. Starting a new business can be risky, but if you do it from a position of strength (minimal startup costs, a day job, and a low personal cost of living), your chances are much better.
Further Reading: some of the ideas above were from Tyler Tervooren, the chief "Professor" at Advanced Riskology. I enjoy his blog because the stories and philosophy revolve around kicking ass at life in general through diligent risk-taking, which is exactly the right way to approach job hunting.